Spring at Holden Arboretum
Experience spring in all its beauty at the Holden Arboretum. Enjoy long hikes on one of our many trails and get in touch with nature. The gardens are awakening in the new season, and you will not want to miss it! From onsite experiences to classes and events, spring comes to life at Holden Arboretum. The Arboretum hours are Tuesday- Sunday 9 a.m.- 5 p.m. The first official day of the spring season is Sunday, March 20, 2022.
Things to do @ Holden Arboretum this Spring
Kalberer Emergent Tower
Take your love of nature to new heights. Each Spring, we are thrilled to reopen the Emergent Tower for the season. The Emergent Tower is 120 feet or approximately 12 stories tall and provides a breathtaking view of the surrounding area all the way to Lake Erie. Experience the forest from a new perspective starting on April 1st, 2022.
Murch Canopy Walk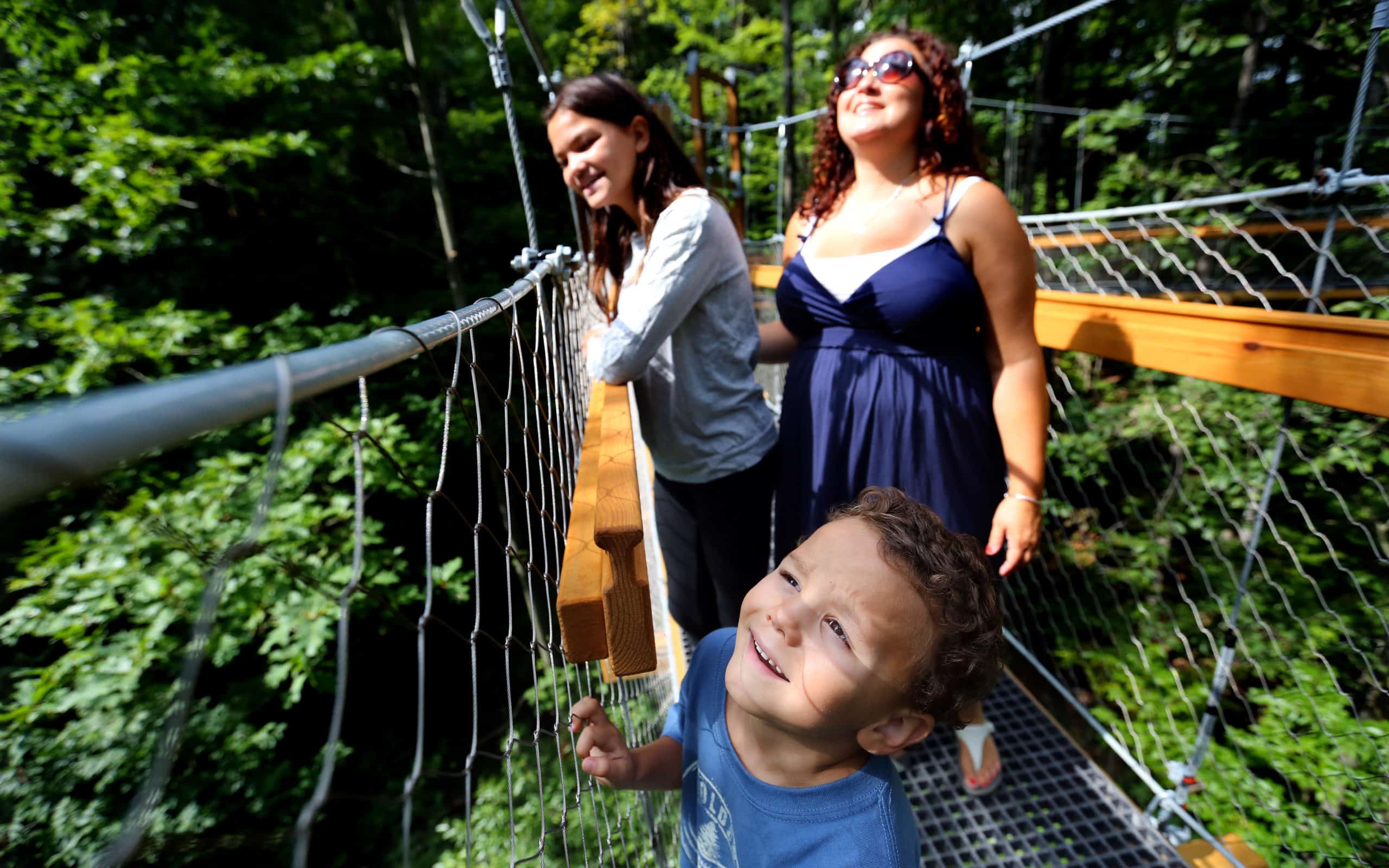 Annual spring adventures, not to be missed! Experience the start of spring from a new perspective at the arboretum. The Murch Canopy Walk invites guests on a 500-foot-long elevated walkway that is built 65 feet above the forest floor. This immersive experience takes guests in and out of the forest canopy to experience everything from the middle of a mature forest to a raised view of streams and the forest floor. Opening on April 1st, 2022.
Trails & Gardens
The arboretum has miles and miles of trails to discover and explore. Whether you are in the mood for a hike through a woodland forest, a walk around a lake, walks through blooming gardens (or all three!) we have the experiences for you. Spanning about 3,500 acres, with 200 acres dedicated to cultivated gardens and special collections, the spacious arboretum has something for everyone. Our gardens are home to a wide range of plants, each with its own story to tell. In April, visit our Wildflower Garden to spot the first sights of spring, and in early May look for blooming rhododendrons, crabapple blossoms, and lilacs!
Tram Tours
Starting in May, tour the Holden Arboretum in a new way. These 45- minute tours will give guests an overview of the campus and gardens, with a focus on seasonal highlights. You may also learn a little history and information about the scientific work that happens behind the scenes.
Art Show
Through May 1st, enjoy Cleveland-based artist Margaret Stamm's series "On Botany" inside the Corning Visitor Center.
Classes
Learn something new! New classes are added often. Check holdenfg.org for updates.
---
Audubon Bird Walks
Every Sunday starting on April 10th and running through May 15th from 7:30 AM- 10:30 AM, join us for Audubon Bird Walks. Explore our gardens and natural areas on these informative walks with an expert guide to identify birds by sight, sound, and behavior. All levels of birders are welcome.
Register
Here's more to explore at Holden Arboretum